JiJi Saturday, October 26, 2019
JIJI
Saturday, October 26, 2019, 2:00 PM
Frye Art Museum Recital Hall, 704 Terry Avenue, Seattle, WA 98104-2019
Artist Website | YouTube | Ticket Information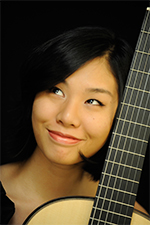 Applauded by the Calgary Herald as "…talented, sensitive…brilliant," JIJI is an adventurous artist on both acoustic and electric guitar, playing a wide range of music from traditional and contemporary classical to free improvisation. Her impeccable musicianship, combined with compelling stage presence, earned the Korean guitarist First Prize at the 2016 Concert Artists Guild International Competition.
Currently sponsored by D'Addario Strings. JIJI's performances have been featured on PBS (On Stage at Curtis series), NPR's From the Top, and Hong Kong broadcast station RTHK'sThe Works. Her recent EP recording, Underglow (May 2018), features acoustic music by Bach, Albeniz, Ginastera and Dyens, in addition to her own electronic composition.
A passionate advocate of new music, JIJI has premiered music by renowned composer, Paul Lansky, among many others, and she recently made her Carnegie Hall/Stern Auditorium debut with the New York Youth Symphony, performing the world premiere of a concerto written for her by American composer Natalie Dietterich–the first concerto ever written for both acoustic and electric guitar.
Born in Seoul, JIJI (Jiyeon Kim) moved to the US in 2009 to study with Jason Vieaux at the Cleveland Institute of Music. She earned her undergraduate degree from the Curtis Institute of Music in 2015, studying with Mr. Vieaux and David Starobin, as part of the very first class of guitarists in Curtis' distinguished history. She went on to earn her MM degree from the Yale School of Music, studying with Benjamin Verdery, and is currently Assistant Professor of Guitar at Arizona State University.