Paul Grove Saturday, November 30, 2019
Paul Grove
Saturday, November 30, 2019, 2:00 PM
Frye Art Museum Recital Hall, 704 Terry Avenue, Seattle, WA 98104-2019
Artist Website | YouTube | Ticket Information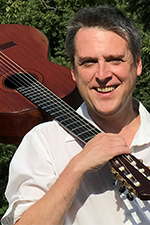 Dr. Paul Grove joined the inland northwest music community in 1995 while completing a doctoral degree in Russian music theory and guitar performance at the University of Arizona. He was invited by his colleague Leon Atkinson to live and work in Spokane, the place where Paul's teacher Aaron Shearer began his career. Though he was only going to stay for one year, he has remained and has contributed in the following ways:
He completed a Ph.D. dissertation on the contrapuntal theories of Sergei Ivanovich Taneev while receiving a Jacob Javits research grant. In addition, he received awards and distinctions in several national and international guitar competitions including the Guitar Foundation of America Competition, the Stotsenberg International Competition, The Great Lakes Guitar Competition, and the Norman Sholin Memorial Competition.
His students have received distinctions in several competitions including Guitar Northwest, the Wolff and Shaeffer Competitions at the University of Arizona, and Musicfest Northwest. Recently he was invited to teach 18th-century counterpoint at Gonzaga University, and he teaches guitar and ethno-musicology at Whitworth University.
As a performer, he has been a featured soloist with the Spokane Symphony, the Couer d'Alene Symphony, the Gonzaga Symphony, the Northwest Bach Festival, the Northwest Sacred Music Chorale, and other regional ensembles. He has toured throughout the US, as well as in Russia, Brazil, India, and Canada.
Paul's primary guitar instructor was Aaron Shearer; he studied composition with Jean Eichelberger-Ivey at Peabody where he joined Manuel Barueco as one of the first two guitarists to win the Peabody Conservatory Competition.